How to decorate a coffee table: useful tips
In most modern living rooms, there is such a piece of furniture as a modern coffee table. And often it is literally the center of the entire furniture composition. On the one hand, the coffee table decor is a simple story. On the other hand, it is a task that requires knowledge of composition and a sense of taste.
Using the example of the best interiors, we tell you decor ideas to choose for your table decor and how to put them together correctly in your living room.
How can I make my coffee table look nice?
You should not take the rule of 3 items as an axiom and stick to it literally, but it really works – it's not for nothing that professional decorators use it. The number 3 is symbolic in many areas of life, and interior design is no exception. Interior designers say that the size and shape of the cocktail table don't matter – a set of three items will be its self-sufficient decoration.
So, let's talk about coffee table setup and sculptural objects that can be located on your small table.
Flowers
Flowers add freshness to any interior. So, why not put them on the coffee table? We are talking here not only about a bright bouquet or faux plants but also about natural elements.
And if you are the lucky owner of an unusual table, and you are a green thumb, you will be able to break a small garden or lush greenery on its surface.
A plate or glass vase with fruit will be a wonderful addition to faux flowers or an independent composition decorating a side table. White accents and pleasant aromas will enliven the overall atmosphere of the living room.
Coffee table books
A coffee table book with a beautiful cover (and other flat objects such as trays or fashion magazines) is a fantastic decor that will tell about your interests. Try to take three books of approximately the same size and stack them. A round tray, a large tray, a vase with fresh flowers, or an original piece of decor can complement the composition.
Photos and candles
You can place frames with photos of loved ones on the coffee table. If you want photos to attract the attention of guests, and not gather dust on the shelf, they belong on the center table.
Another win option is scented candles. Fragrance-filled haven. They are harmoniously combined with almost any of the decorative objects, bringing an element of romance to the atmosphere.
Luminaire
The light source located in the center of the living space is capable to transform it. The candle holders on the coffee table can change your perception of the interior and add a warm glow.
Coffee table decor
Models of coffee tables mass – round table, glass, wooden table, rectangular, upholstered… And which one of them will decorate your living room, it's up to you! In fact, choosing the right shape is not as easy as it seems at first glance.
The Interior designer says that it is not necessary to emphasize the shape of the coffee table with decor – play on the contrast. Place a sophisticated vase or a few eye-catching coasters in one corner and a stack of a couple of favorite coffee table books in the opposite corner. Another solution that decorators like is to shift the decorative object to one side.
Glass coffee table
When we design a glass table, the emphasis automatically falls on what is under it. That is, on the floor. The selection of a carpet with a graphic pattern for a transparent table is an actual solution.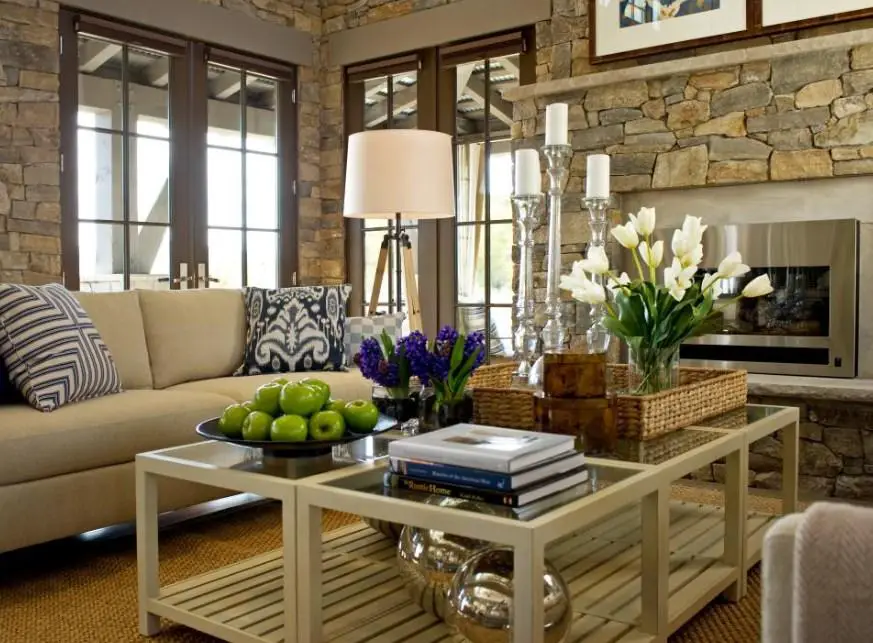 Round coffee table
Round and oval coffee tables allow you to make the interior less strict, more inviting, and homely, and to balance rectangular and square objects in your living room.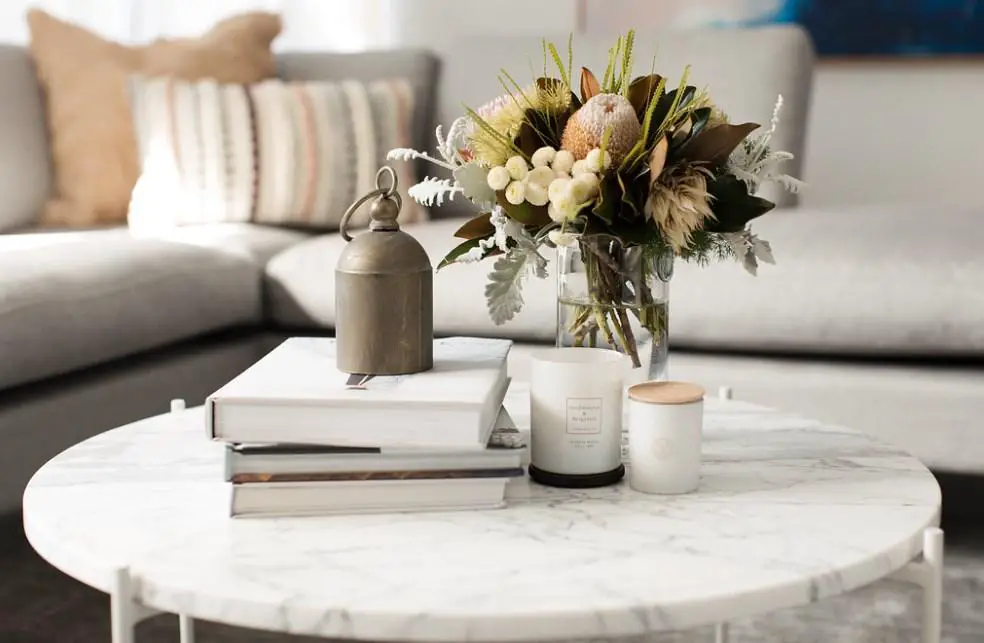 Wooden coffee table
Light natural wood is an actual trend in interior design. A neat wooden coffee table is a simple and effective way to decorate your living room with fashionable material.
The personification of classics and noble beauty invariably remain in tables made of solid wood. They are successfully used not only in classic interiors but also combined with furniture in other styles. In particular, natural wood shades look great in a living room designed in the personal style.
Rectangle coffee table
A rectangular table fits perfectly between two sofas, especially if they have a slightly rounded shape. Do not forget to put it so that it is convenient to approach it from all sides.
Upholstered coffee table
This is a great choice for those who want to add more color to their living room in the most budget and elegant way. From pastel pink to deep blue, a soft coffee table can add some creativity to the color scheme of the cozy living room without looking inappropriate.
Topics & Questions
What should I decorate my coffee table with?
Coffee table styling is a great opportunity to realize your creativity and a great way to give your guests an idea of your personality and taste preferences. And the best part is that you can change all this depending on your mood and this process will not take much time!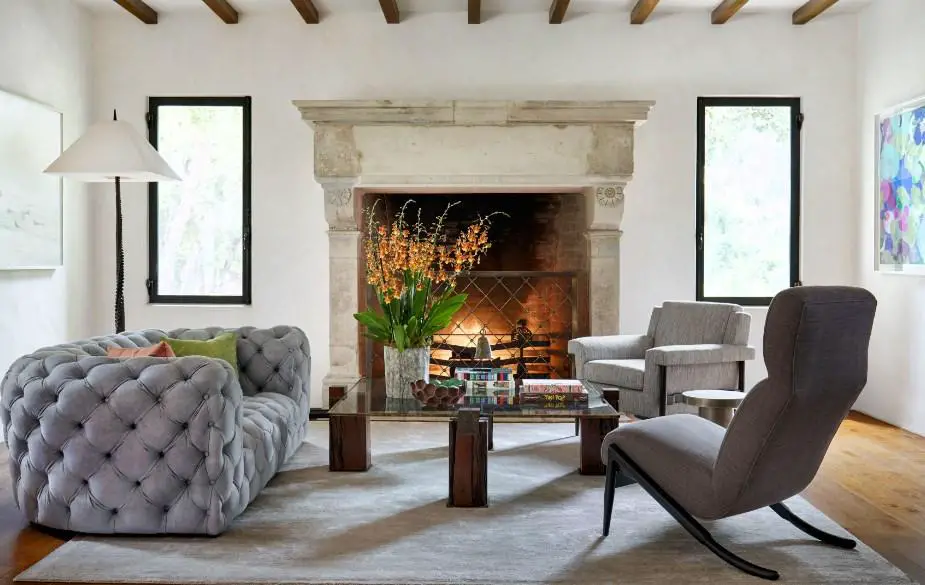 How do you make a coffee table look expensive?
To make the coffee table look expensive, style your coffee table with decorative items and create a visual balance between the objects to arouse the visual interest of the guests.
For those who do not have the opportunity to think a lot about the table décor, we have saved economical and win-win options. Do you like to read magazines?
Put a magazine or an art book on the coffee table opened on the most beautiful spread, and complement the composition with one object, preferably a rounded shape. It can be an original decor, a vase, or even a glass. Everything ingenious is simple.