How to Decorate Bathroom Counter – Useful Information
Often people don't know how to decorate bathroom counter so that it is beautiful, comfortable, and stylish. Since the bathroom is a place that is essentially created for washing and getting ready for bed, it also serves as a great place to relax and unwind after a hard day's work.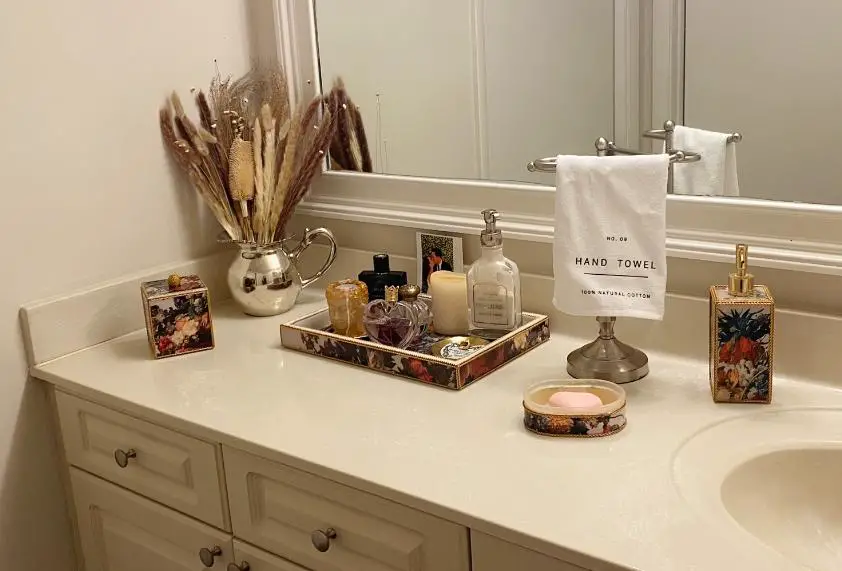 Therefore, it is very important that the counter in the bathroom is beautifully and harmoniously decorated because it is not only pleasing to the eye but also creates an incredibly pleasant atmosphere.
Q Tips
How do I decorate bathroom countertop?
What should be kept on the bathroom counter?
How can I make my old bathroom countertops look better?
How do you style a bathroom vanity top?
You can find answers to these and other questions in our article, so keep reading and you'll find out.
How do You Style a Bathroom Vanity Top
There are many ways to adorn the bathroom counter, but we have found and selected the best and most modern of them, so if you want to know, keep reading and you will make your master bath incredibly beautiful and cozy.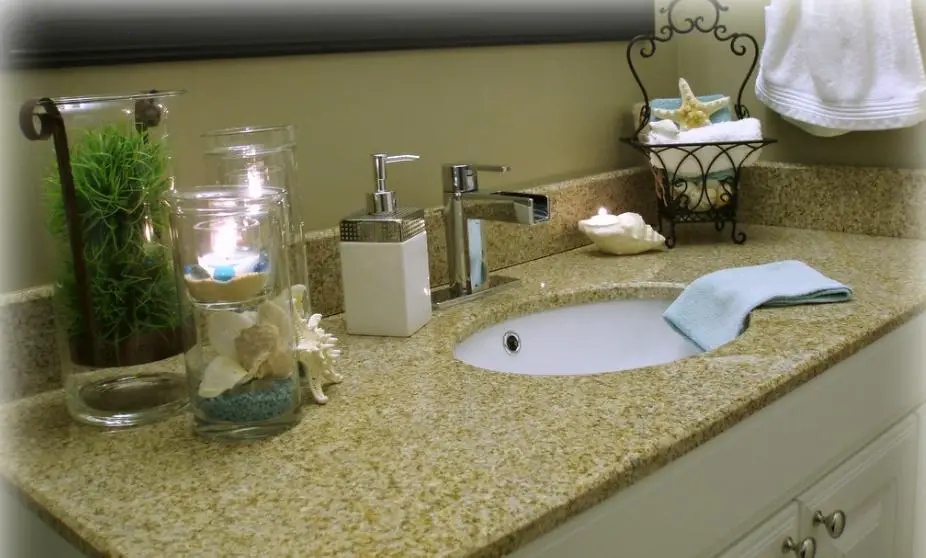 Also, in addition to the excellent ideas for bathroom countertop design, in this article, we will tell you what things are better not to decorate it and what is better not to put on it. We are sure that you will like our methods of decorating the bathroom counter and you will choose the right one for you.
Putting a glass vase with fresh flowers on the bathroom counter can perfectly dilute and decorate the interior, but we will tell you better ideas.
And by the way, our ideas will not only help you adorn your bathroom counter but also perfectly and conveniently organize your space.
You Can Use Fresh Flowers or Greenery
This method of decoration is one of the most budgetary and really beautiful, because flowers do not clutter up the limited space, but on the contrary refresh and diversify the interior.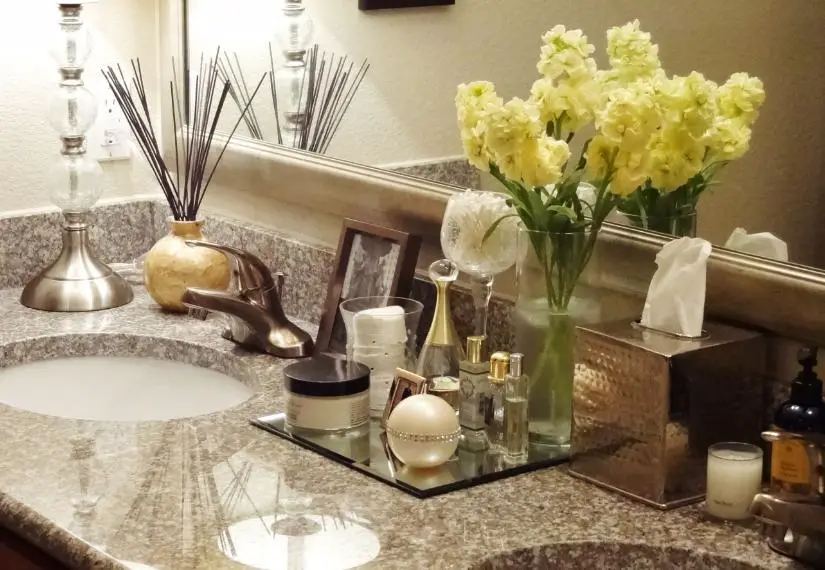 You can choose flowers or greenery that will match the interior of your bathroom and adorn the bathroom counter.
You can put them in a beautiful and unusual vase, which will also very cool dilute the design and give the bathroom counter new and different colors and will please you for a long time.
At the same time, such bathroom counter decor can be easily changed or simply removed if bored, but the flowers will never get bored.
Try to Approach the Issue of Bathroom Counter Decor Individually
A personal touch can be great for relaxing and still make great decor for your bathroom counter because you can just listen to yourself and put anything you want there.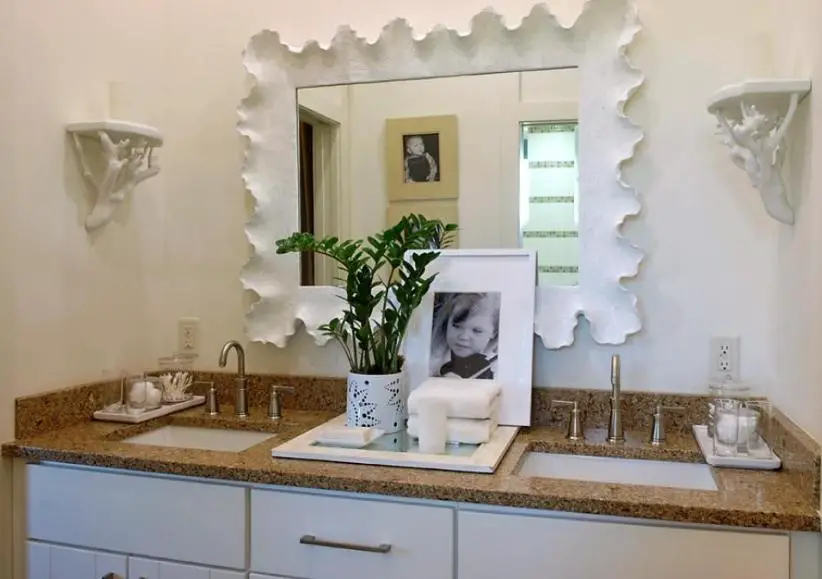 You can put a family photo in a beautiful frame or any memorable and special things for you, looking at which in the morning you will get a charge of energy for the whole day, as well as a good mood.
Organize Your Space with Glass Jars
This method is one of the best ways to organize your space so that everything you need is close at hand while looking nice and neat.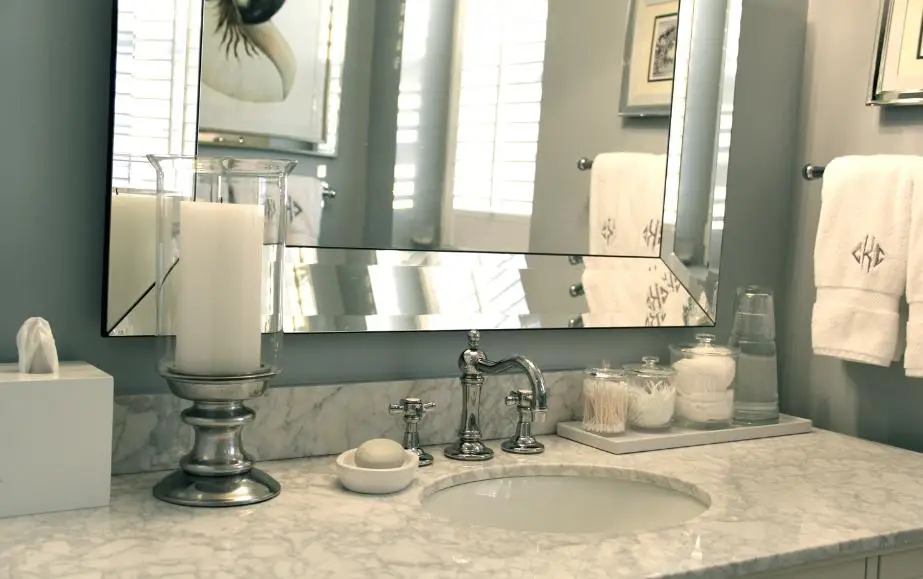 Glass apothecary jars are better to buy without a pattern, so they will not be too conspicuous while looking stylish and neat.
These jars can be filled with cotton disks, cotton swabs, cotton balls, and toothpicks, this way you will put these items in the order and they will be quickly available. Therefore, cotton pads, cotton balls, and cotton swabs will always be visible and easy to use.
You can also transform the soap dispenser and bar soap holder by using glass objects as a bathroom counter decor, which will fit perfectly in the interior and give a refined and excellent look.
And also, this method allows you to cope with two tasks at once: organizing the space and putting the decor on the bathroom countertop.
Rustic Decor with Wrought Iron
Rustic decor is usually associated with warm, natural, and natural colors and natural wood that is not covered or treated with anything.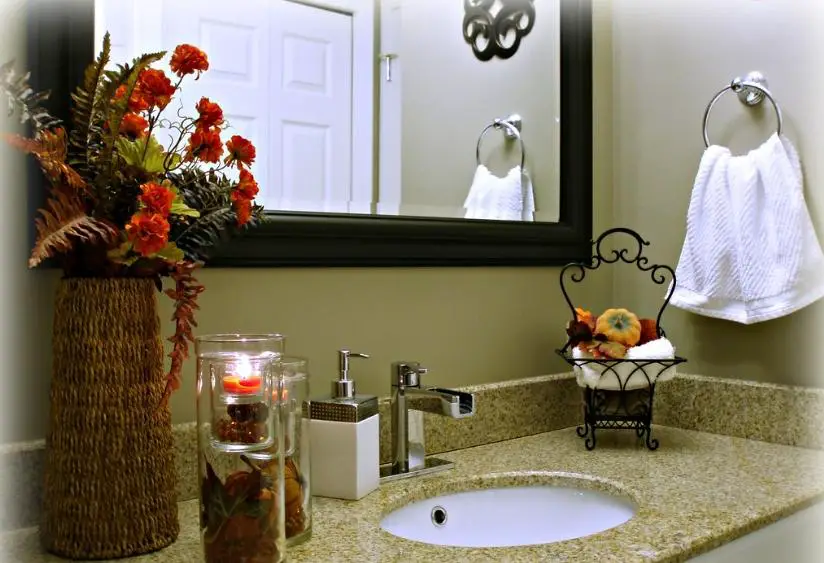 The rustic bathroom wall contains elements that seem to take you back to the village, to your childhood. And most importantly, such stands can be creatively diversified with vases, flowers, or other cool things.
Update the Appliances
If you need every detail of your countertop for functional purposes, you may not have enough room for different decor.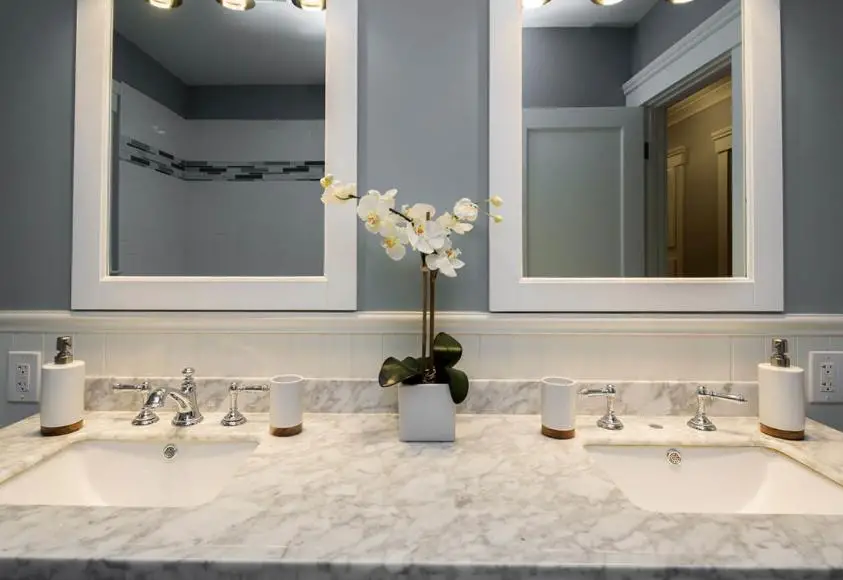 However, you can update your fixtures to draw attention to them and increase your space.
This saves functional workspace and gives your space an elegant and personalized look.
Use Counter Trays as a Bathroom Counter Decor
Thanks to the counter trays you can distribute the space and organize it conveniently. You can put a soap dispenser in these trays, put a bar soap, put a toothbrush holder, and put some decor or jewelry.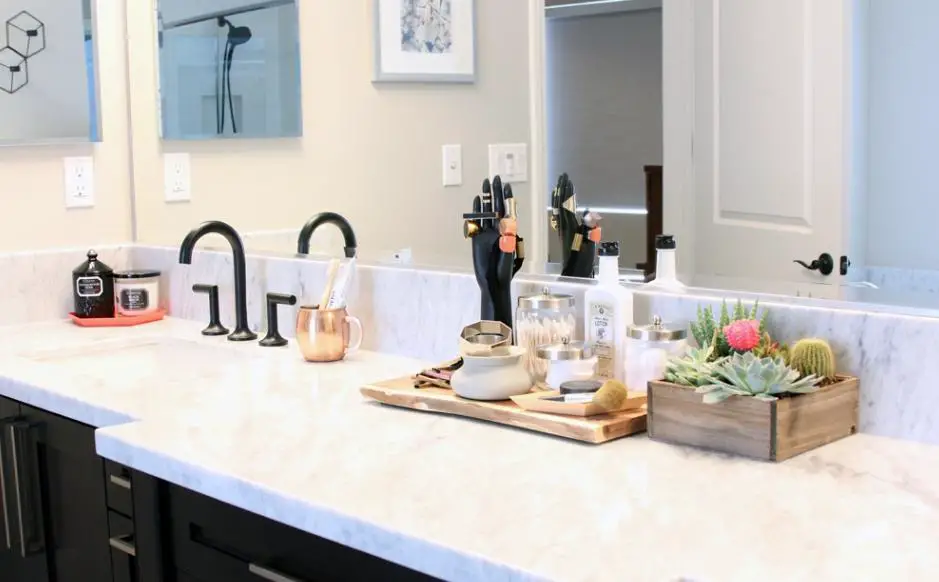 You can use a metal dark tray as a counter tray, this will add sophistication and antiquity to your bathroom. And if you want to use a wooden tray, it will look classy and modern.
You might ask: How can I improve the look of my old bathroom countertops? Using counter tray, flowers, glass jars, and more will help to diversify your bathroom décor in a great way.
Try to Diversify the Bathroom with Organizers
Put organizers on the countertop in the bathroom – a great idea for decorating this corner, because if the toothbrush holder, soap dispenser, and everything else is in a chaotic order and does not match its style, agree, it does not look good.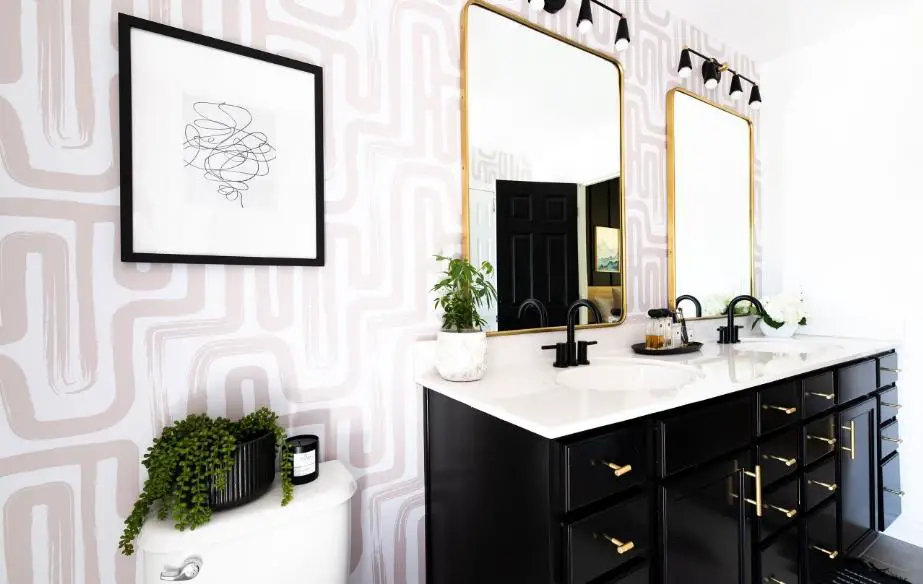 Therefore, if you buy organizers, and in them place all your cosmetics, soap dispenser, care products, hand towels, and personal care products so that it all looks neat and even, your bathroom will be a great transformation.
Use Scented Candles
Adding scented candles to your bathroom decor will add a great mood and when you take a bath, you'll feel like you're in a spa. Also, scented candles will help you relax and relieve fatigue.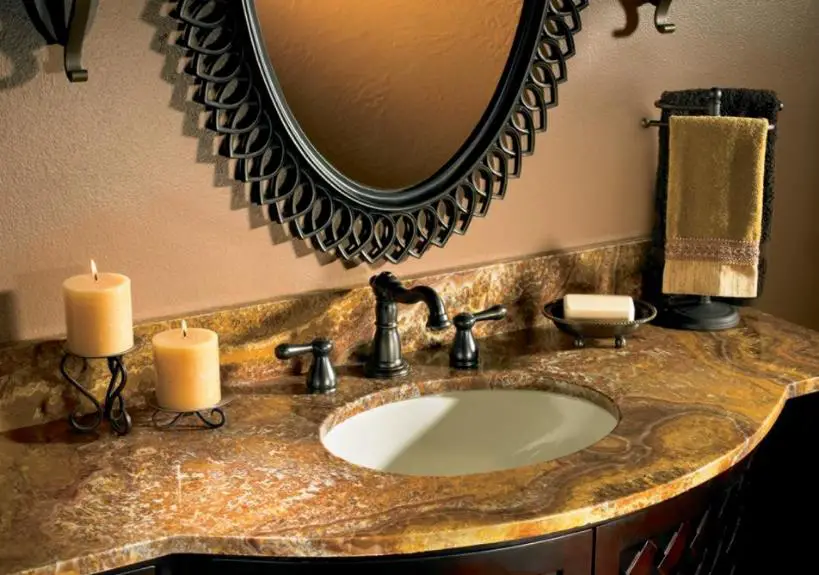 You can choose several scents and light them in the mood. It is desirable to choose not aggressive soft scents, which will definitely help relax and will not be intrusive and tense.
Add Built-in or Freestanding Storage Shelving
Built-in shelves in the bathroom are rare, but why? Because they make life so much easier. In addition to everything you need that can fit on such a shelving unit, you can also place additional beautiful décor there.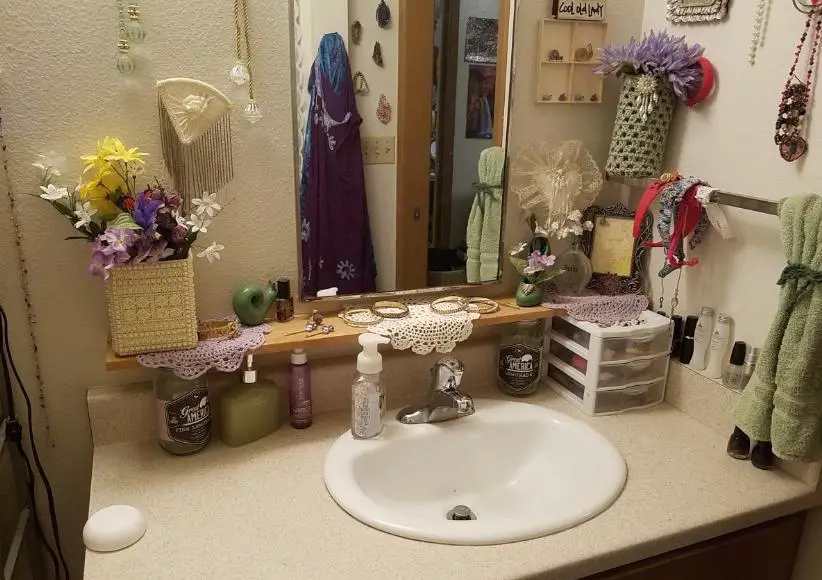 You can also incorporate additional decor elements such as twigs, candles, or beautiful hand towels to give to guests.
Items and Things you Shouldn't Keep on the Bathroom Counter
The main reason the counter is cluttered is cosmetics, beauty products, hair styling products, perfumes, and makeup brushes. Basically, those things that you use every day.
In fact, this is where all of this should be, but if it is, you need to organize this space. You can use coasters, trays, jars, and similar organizational utensils for this.
Store your Decorative Cosmetics in Racks
If you store your decorative cosmetics in organizers, you will reduce clutter to zero. Moreover, you can use organizers made of absolutely different materials to your taste.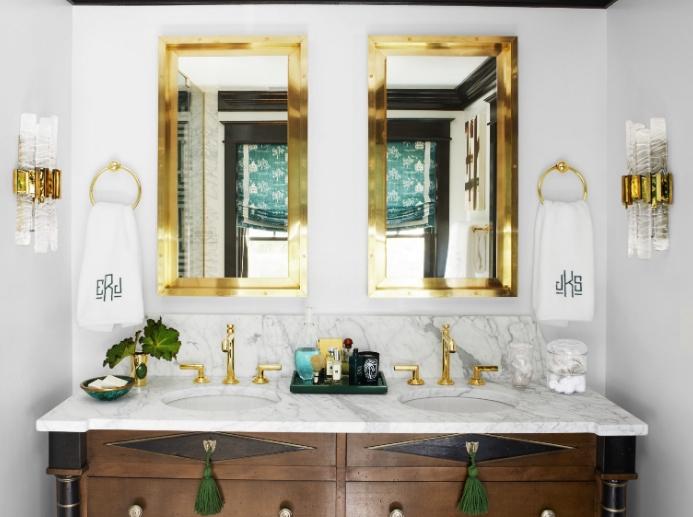 This can be wood, plastic, metal, or fabric. Here it is necessary to rely on your preferences, and well on the style of your bathroom.
Thanks to the organization of space, you can not only provide yourself with easy access to all the cosmetics but also adorn the counter in the room.
By putting it under the stand you can free up space, while at any time it is easy to get and use this or that item.
Mirrors will Make a Great Decor
If you have chrome faucets and fixtures in your bathroom, a style with sleek pieces with mirror finishes will fit in perfectly and accentuate the beauty of the room.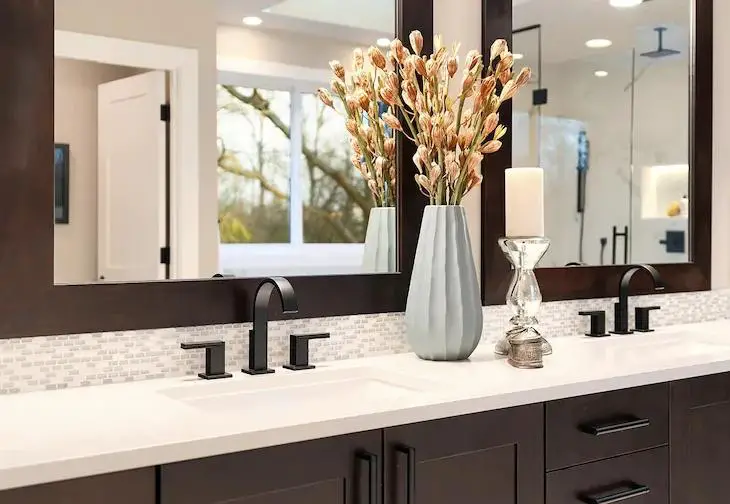 Mirrored items look very beautiful in the interior and give a superb and modern look.
You can choose absolutely any items with mirror inserts or fully mirror surface, as well as mirrors of different shapes will also well emphasize the beauty of your bathroom.
How to Hide Bathroom Clutter
If you do not live alone, but with a girlfriend, wife, or children, it is likely that your bathroom is sometimes a complete mess because of the fact that so many different items stand on the washbasin, stand, and so on.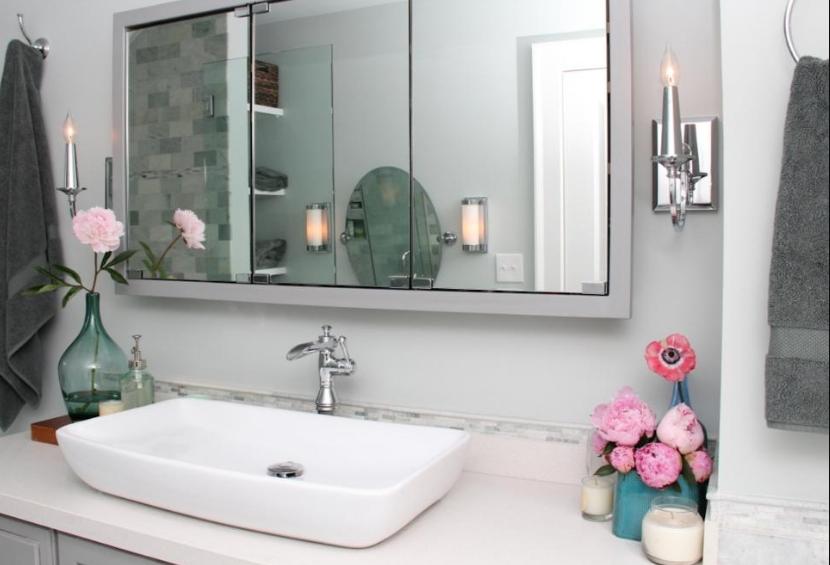 In order to hide the clutter, you can use organizers or containers that can be neatly arranged on a shelf or on wall shelves, while ensuring yourself and your family are clean and have easy access to all the necessary items.
Video: How to Decorate Bathroom Counter
In this video, you can see how to decorate bathroom counter.
Final Thoughts
Before you start organizing the space in your room for rest and relaxation, you need to think and decide on the style you would like to see there.
Especially if you're tired of fittings, faucets, bath curtains-it means it's time for a change. It is not difficult to replace it all, but you and your family will be happy with the new look of the bathroom.
You and yours will immediately notice that the room looks more modern and neat, thanks to such seemingly insignificant details. Here is how to clean shower tiles without scrubbing.
We hope we were able to guide you on the right path and help you decide to make your bathroom counter better and more beautiful, we believe in you, and good luck!