How to Stop Bed from Sliding on Wood Floor – Efficient Tips
Have you just renovated your bedroom and bought a new bed, but you have a problem: Is the bed sliding on the floor? If you're still here, then you've definitely been wondering: How to stop bed from sliding on wood floor?
And so, now we're going to provide some really effective solutions to this seemingly small, but still problem.
Chances are your room has a hardwood floor, laminate, or other wooden floors, and metal bed frames, since you've encountered this problem. After all, a metal frame can slip a lot on a glossy floor.
Large Heavier Beds don't Slip
Some people think that big and heavy beds don't slide on the floor, but that's not true. Indeed, a light bed will slide a lot, it would seem that a heavy bed frame should not slide, but this is not true. Even on the contrary, the heavier and more massive the bed frame, the more it hurts and scratches the floor.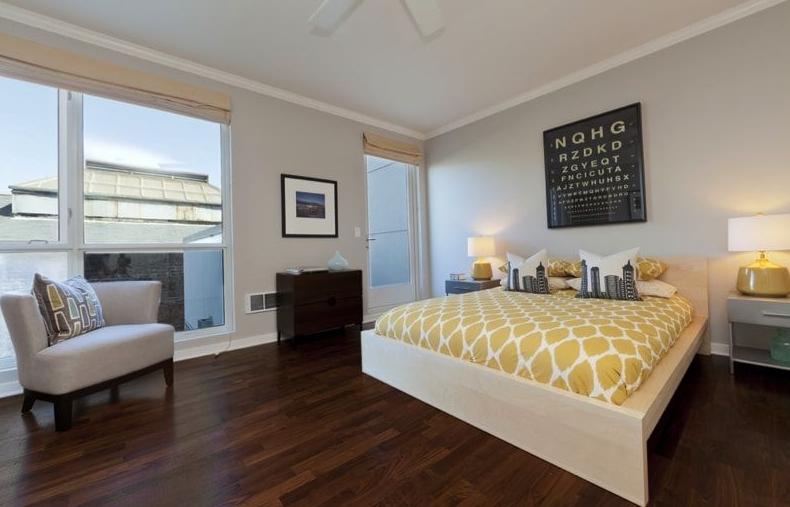 Don't worry, you don't have to throw the beds away and buy a new one. We have found some ideal and most importantly effective solutions for you, keep reading and you will find out for yourself.
So, How to Stop Bed from Siding on Wood Floor
We have prepared for you some of the easiest and most effective ways to stop your bed from sliding on the floor. But before we start, it's worth saying that the methods presented do not imply something like changing the floor or buying a new bed, or changing the bed frame. No. It's much easier and cheaper than you might think.
More good news: all methods of- how to stop bed from sliding on wood floor, are totally stylish and won't disrupt your gorgeous decor. So, don't worry, you'll stop your rollaway bed without ruining the look and style of your room.
The First Way to Stop Bed Legs from Sliding on Hardwood Floor
And so, the first method is to put a rug under the bed, specifically, under the bed legs. This way you will not only stop the sliding but also perfectly complement and dilute the interior of your bedroom.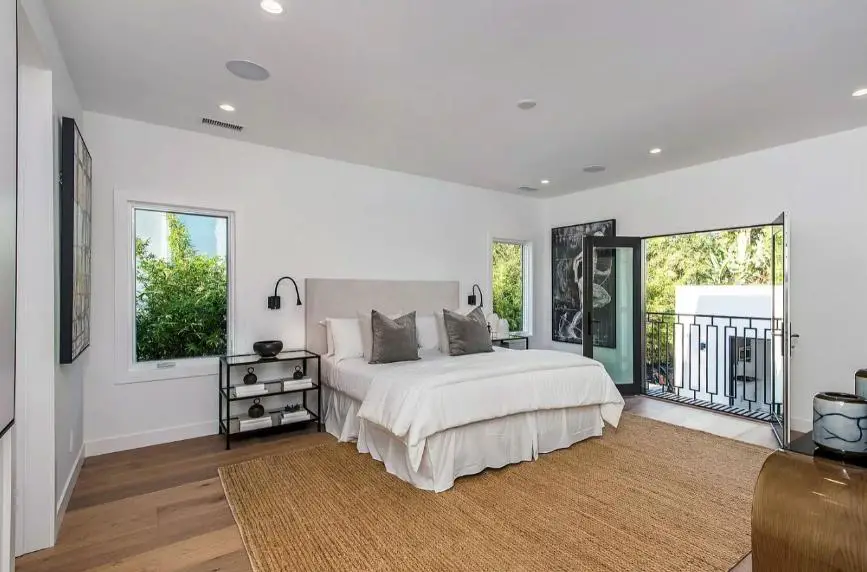 With all that you can choose a carpet in any color and with any design. It all depends on your taste and the style of your room.
What Carpet to Choose
As mentioned above, you can choose absolutely any carpet with any design, only now you have to decide on the size.
It is logical that the rug should be big enough to fit all the legs of the bed frame, but it is better that it is a little bigger and serves as a bedside rug at the same time.
By the way, it is best to choose a rug with a thick and thick pile, it will not only be more pleasant to stand on it, but the feet of the bed will not slip on the floor. Done – you saved your bed from sliding and your floor is saved from scratching.
The Second Method – Rubber Floor Pads
Rubber velcro pads or in other ways furniture stoppers can be purchased at any furniture store, and they are not expensive at all.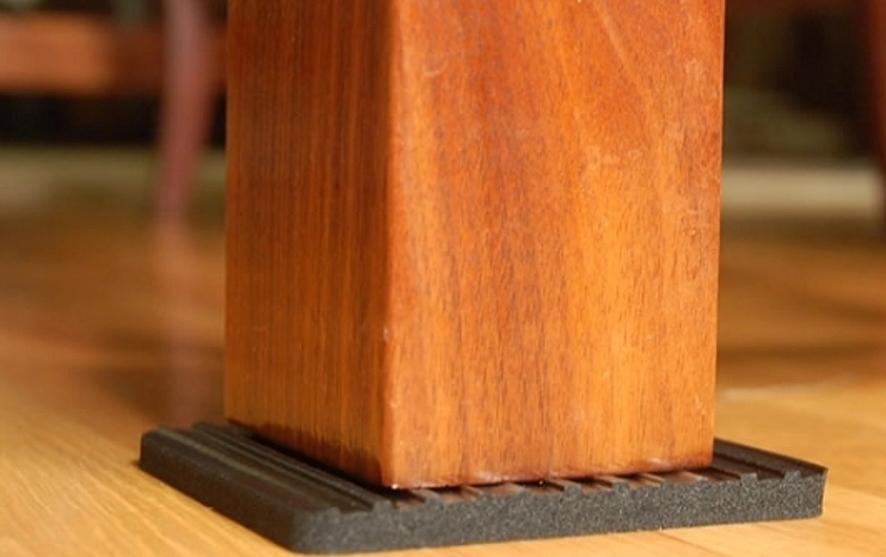 After purchasing these simple devices, you will forget about the problem of a sliding bed on a wooden floor.
Conveniently, you can choose any suitable size pad, which will be invisible under the bed leg. Or, if you don't have the right size, you can easily cut it out with regular scissors.
How to Attach Rubber Floor Pads
Modern rubber pads are attached very, very simply. To do this, you need to remove the protective film on one side of the velcro pads.
Of course, you need to size it up before doing this, and then simply glue it to the bed leg with a little lift and you're done. Your bed will be standing in position on a wooden floor.
The Third Method – Bed Risers
Bed risers are the best solution to the problem: how to stop bed from sliding on wood floor because, in addition to fixing the bed in place so it no longer slides, you also have more storage space.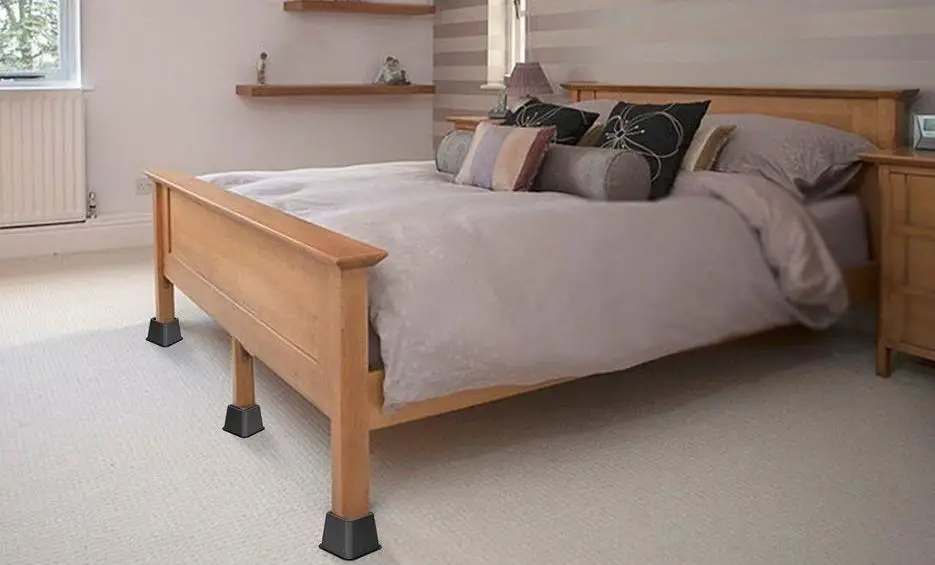 For example, you can place drawers or boxes under the bed and store whatever you want there.
What Kind of Bed Risers to Choose
Bed standpipes now exist in huge numbers. They are available in different colors and sizes. You can choose different heights to have more storage space underneath.
Just pick a color that matches the color of your bed frame and then install them. It is not at all difficult to do. You need to raise the bed a little and insert the riser so that it sits there securely.
And so all the legs one by one. Done – you saved your bed from sliding and your floor is saved from scratching in your room.
The Fourth Method – Rubber Feet
In order to prevent the bed from slipping, you can buy special rubber legs. What are they? These rubber cushioning legs are a great option to prevent the bed from sliding.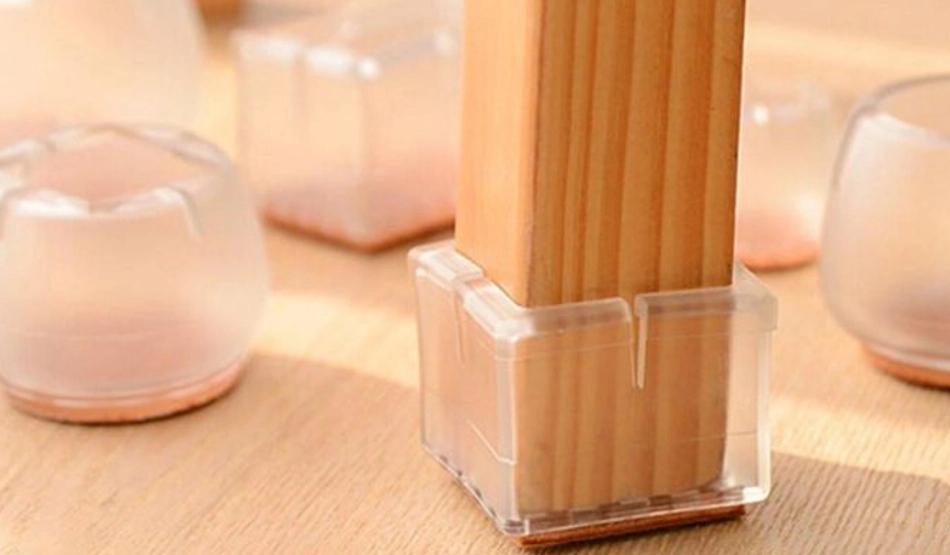 They are usually made of a good thick rubber that prevents the bed from sliding on the wooden floor.
How to Use Rubber Feet
In order to test the effectiveness of the rubber legs, you just need to put them on the bed legs. The main thing is to choose the right size and diameter of the overlapping leg.
Once you have installed the rubber overlays, you saved your bed from sliding.
Fifth Method Against Bed Slipping
If you do not want to buy any additional anti-slip devices, try fixing the bed frame to the wall. This way you will prevent the bed from sliding on the wood flooring.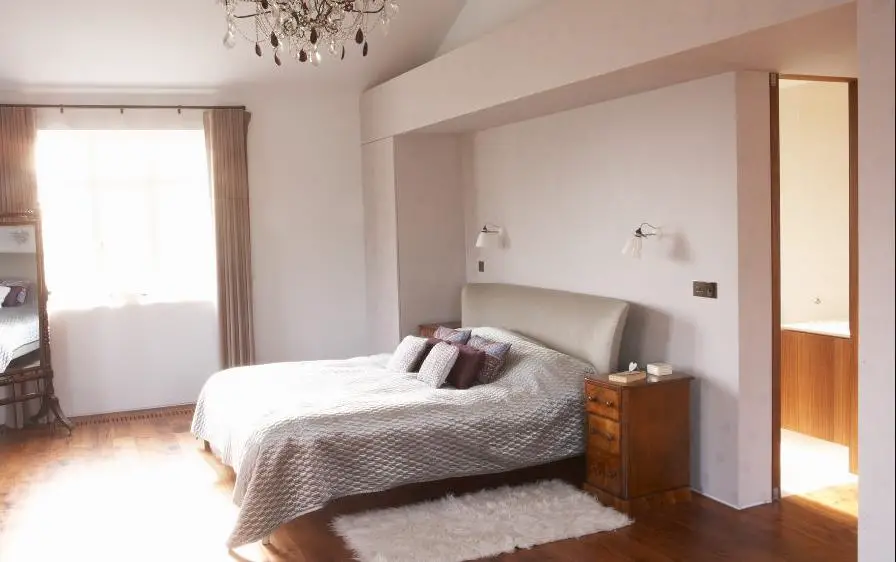 But just remember that if you fix the bed to the wall, it will not be so easy to make changes in the room, because every time you have to unscrew the bed from the wall and then screw it back on.
How to Attach the Bed to the Wall
Before you start attaching, you need to make sure that the wall is stable and secure. Then you need to mark the places where you need to make holes later. Next, you need to install the fasteners, which will respectively hold the frame of your bed.
In order to install the headboard and attach the wall plugs, you need to pin special fasteners to the headboard itself and to the wall, respectively, too.
After all the manipulation it is necessary to attach the fasteners and everything is ready, the bed stands securely and does not slide on the floor.
The Sixth Method is Bed Stoppers
Bed stops or stoppers are a very good thing if you have a slipping bed in your home. And since bed stops are absolutely invisible, and therefore, they will not spoil the interior of your room where you sleep in any way.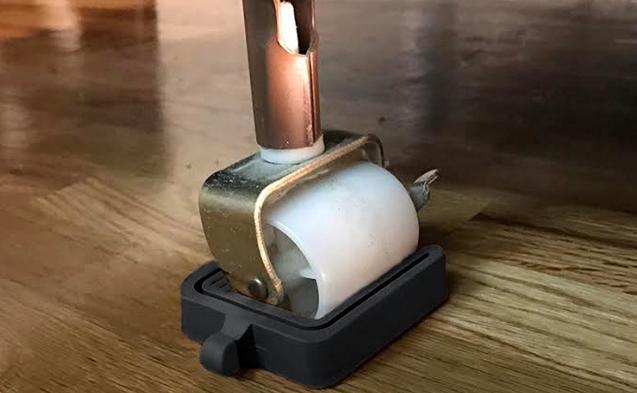 Moreover, you can choose absolutely any color that will match the color of the cot.
How to Install Bed Stops
Installation of these simple devices does not require any special efforts and skills.
Simply purchase the stoppers of the right color and place them under each bed leg. Now your bed won't move for sure.
Replace the Legs of the Sliding Bed Frame
To prevent your sleeper from sliding on the floor, try solving this problem by replacing the bed's legs with non-slip ones.
In today's world, it's very easy to find these things, you just need to pick the right rubber risers and the problem of slipping on the floor is no longer an issue.
You can choose absolutely any rubberized feet, but do not forget that this method will only help those who have a collapsible bed structure, in other cases you should follow our other tips.
The Next Method is to Wrap the Bottom of the Frame with Non-Slip Material
The way out of a sliding sleeper- wrap the bottom of the structure with rubber non-slip material. In this case, you do not have to buy special non-slip devices or materials.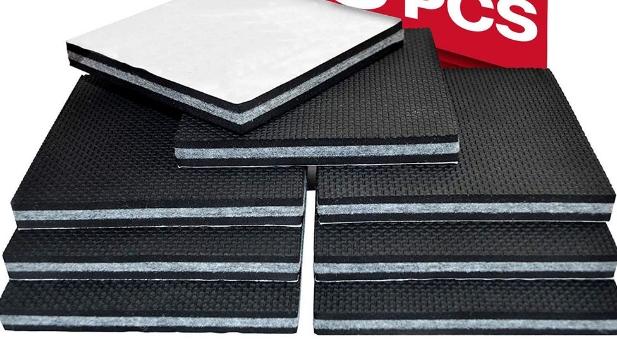 In addition, you can take old bicycle tires that you no longer need.
How to Perform this Method
You can even use bicycle tires. To perform this action, you need to take old bicycle tires and some sharp tools with which to cut the tire.
Take the tires, measure the height of the riser and cut it off. Place the crib legs inside the tire, so that the outside of the tire is on the floor.
Don't worry, you won't ruin the interior of the room with this method, because the bicycle tires will be on the inside, so they won't be visible, but they will act against slipping perfectly.
The Last Method is to Use Velcro Padding
Velcro pads are a great simple device against slipping furniture. Moreover, they can be used not only for the bed's legs but also for any other furniture in the house. Here is how to make a nightstand taller.
For example, you can stick them on heavy, solid furniture that might scratch your flooring by simply sticking them on the bottom of the furniture that is in contact with the floor.
Another plus of Velcro is that they are completely invisible and, therefore, do not spoil the interior of the room and home.
Video: How to Stop Bed from Sliding on Wood Floor
In this video, you can find an inexpensive solution to resolve the problem of furniture moving/sliding out of place on hard floor surfaces, such as hardwood, laminate, and tiled floor surfaces.
Final Thoughts
Since you are reading this article, it is likely that you have encountered the problem of your sleeper sliding on a wood glossy floor. Thanks to the above and fully described methods on how to stop sliding, you can really solve your problem.
Just note that not all methods may be suitable for you, so we advise you to read the article and get acquainted with all the methods of solving this problem.
We hope that we were still able to help you and you will solve the problem of your bed sliding on wooden or any other glossy floor. Thank you for your attention.