What color curtains go with brown furniture? Your style guide to a beautiful home
Brown furniture is an all-time classic. Whether it's an exquisite oak living room set or a cozy brown leather sofa, it's elegant and classy. When choosing furniture, go with a brown, and you won't regret it. The curtains, however, will help you create the atmosphere in the room, making it unique and only yours.
Their color can add light or intimacy, bring joy or calmness, and encourage you to play or relax. Read our guide and make your choice — choose the best color for your curtains!
What curtains look good with brown furniture?
So what color curtains go with brown furniture? There are plenty of options. You just need to decide what goal you want to achieve, and what mood to create. And we are here to help.
White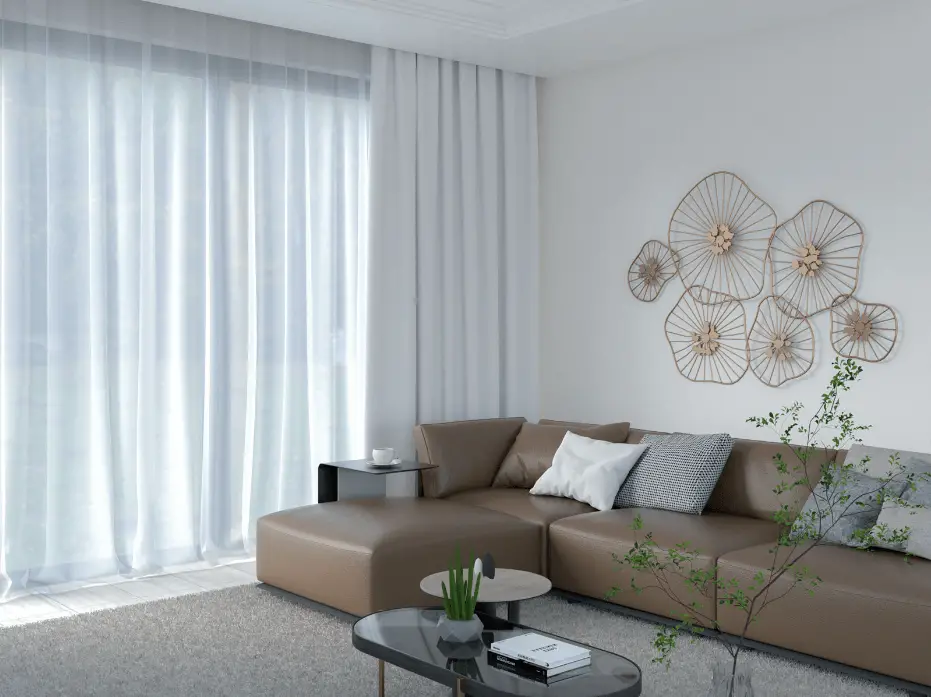 White works really well with brown. It brings soft light into the room, and if the room is naturally dark, you'll make a brilliant choice to go for white curtains.
If you have a beautiful brown sofa, white curtains will add style and warmth to the interior. And they usually go well with any wall color.
If you want some accent color, throw a couple of pillows in brighter shades, and a splash of bright colors will catch your eyes every time you enter the room.
Beige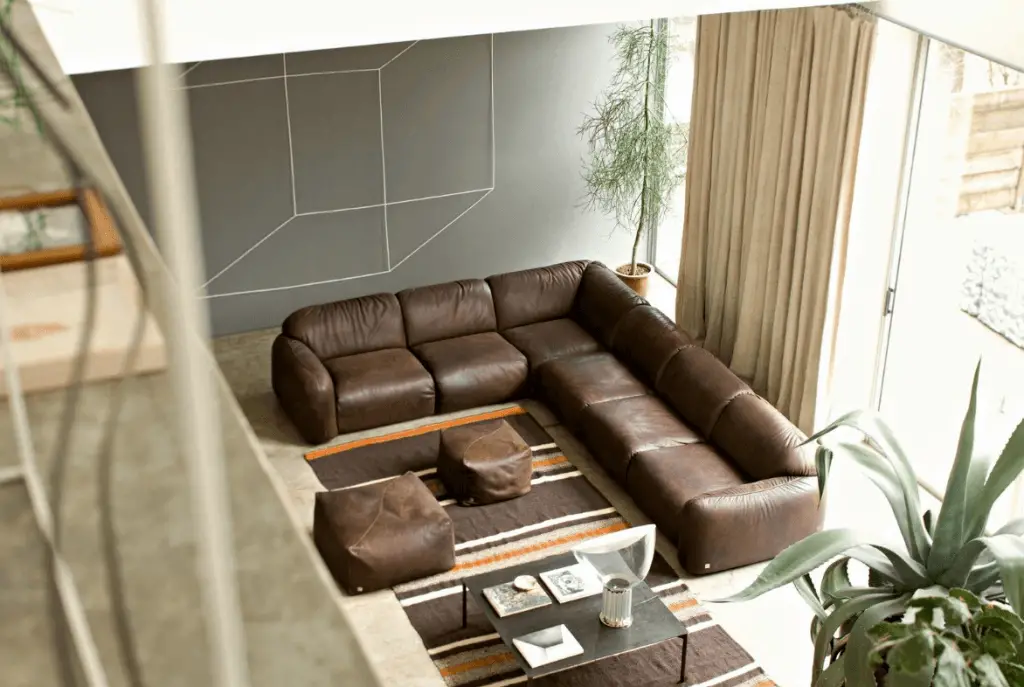 This neutral palette color matches a brown couch or any other furniture perfectly. If you have a dark brown couch, lighter beige curtains could be a pleasant contrast to a dark shade.
To maintain the harmony created by a beige curtain, keep the color throughout the entire room using lampshades, pillows, or the floor. The monochromatic tone will look very classy.
If beige curtains seem a little dull to you, how about sheer curtains in beige? Their light texture creates beautiful highlights, the space gets airy and warm at the same time.
Mustard shades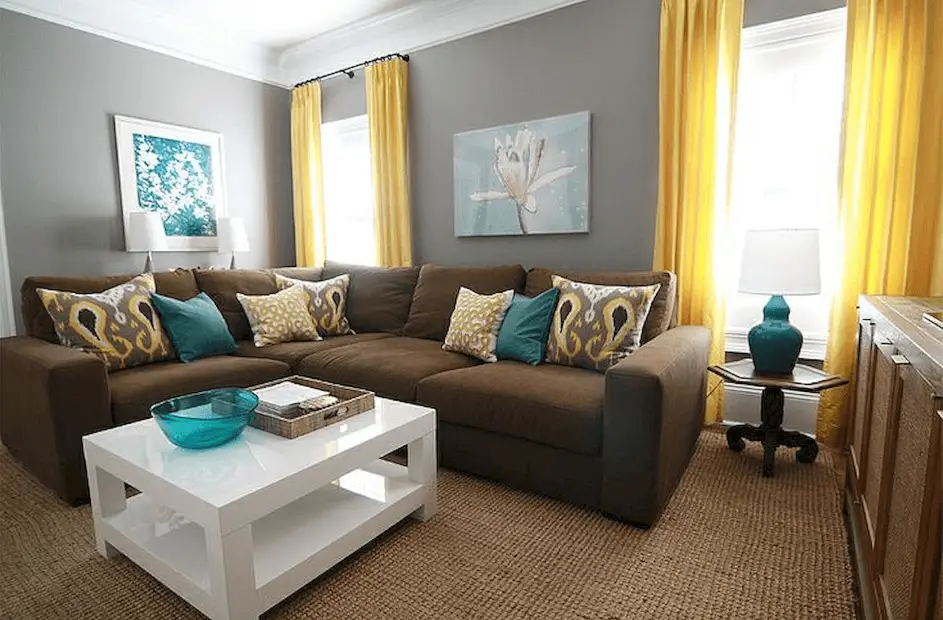 What color curtains can bring in a genuine feeling of fall? A brown sofa and dark-mustard curtains are a very special duo, creating stunning color splashes, while in a lighter shade remaining relatively quiet.
It gives a room a warm, cozy glow.
Gray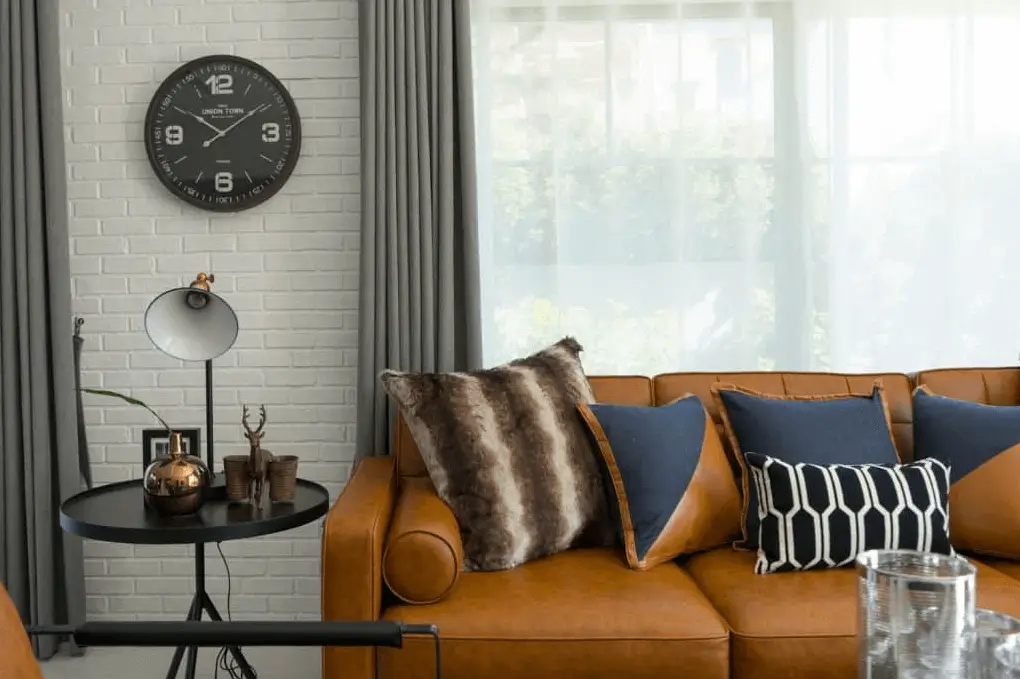 If you like the gray color for the cool, calm feeling it brings, you may consider pairing it with the brown of the furniture. They make an excellent combination, though you have to consider your choice of shades, as it can get a little tricky. It can also be easy to mix a brown sofa and gray curtains with other pieces of decor.
For example, for a lighter shade of brown leather sofa, you can choose a medium gray curtain. With white walls, it will be perfect.
Or you can select a different strategy: use various shades of gray for many pieces in the room, and your brown couch will fit just fine.
Tan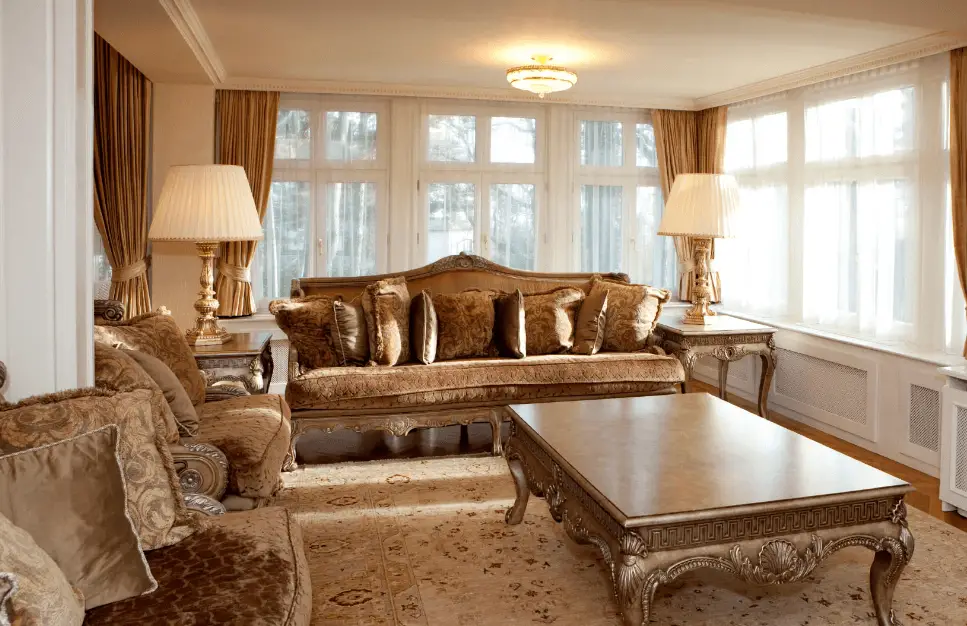 If you love warm hues and natural tones, tan curtains may be a choice for you. They look gorgeous with dark brown furniture. Use some other tan color accents in the room like throw pillows or a tan rug.
Copper will wed with the tan color scheme perfectly, too. If you are not in possession of any authentic copper items, copper-colored pieces will do just fine.
For a more elegant look, go for gray walls. The color combination of warm browns with cool gray will balance and harmonize the interior.
Red/burgundy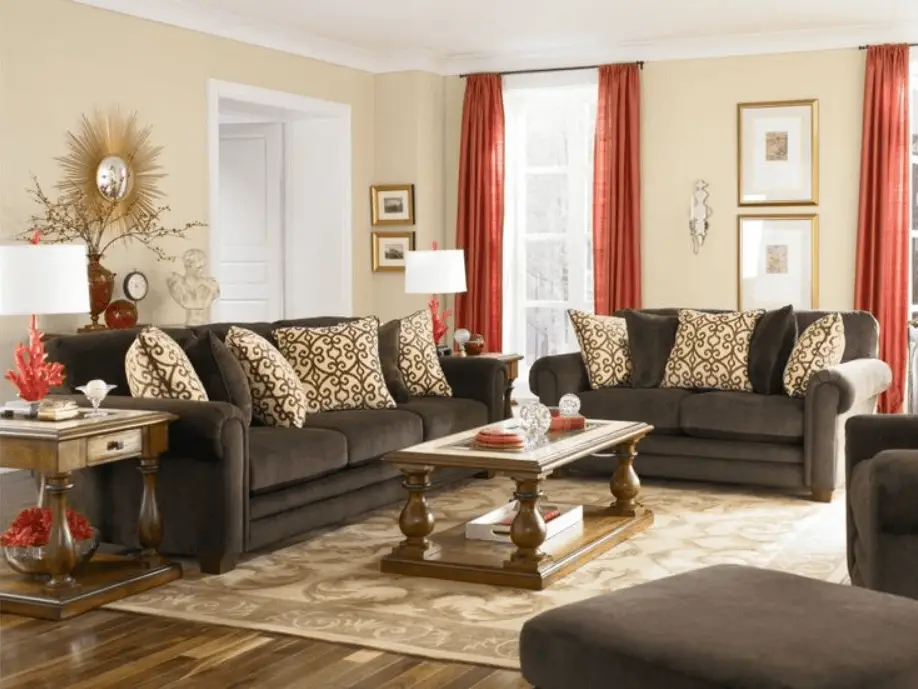 If you go with a brown shade of the furniture, you go for elegance, and, paired with dark red or burgundy, it contributes to a classy, rich interior. If a classic color combination is what you're striving for, choose burgundy curtains. Your room will be warmed with rich autumn colors.
Add some bronze accents and the picture will be complete.
Now you'll just need to light the fire in the fireplace, take a glass of mulled wine, and sit on your favorite brown couch. A perfect setting for a cozy fall evening.
Green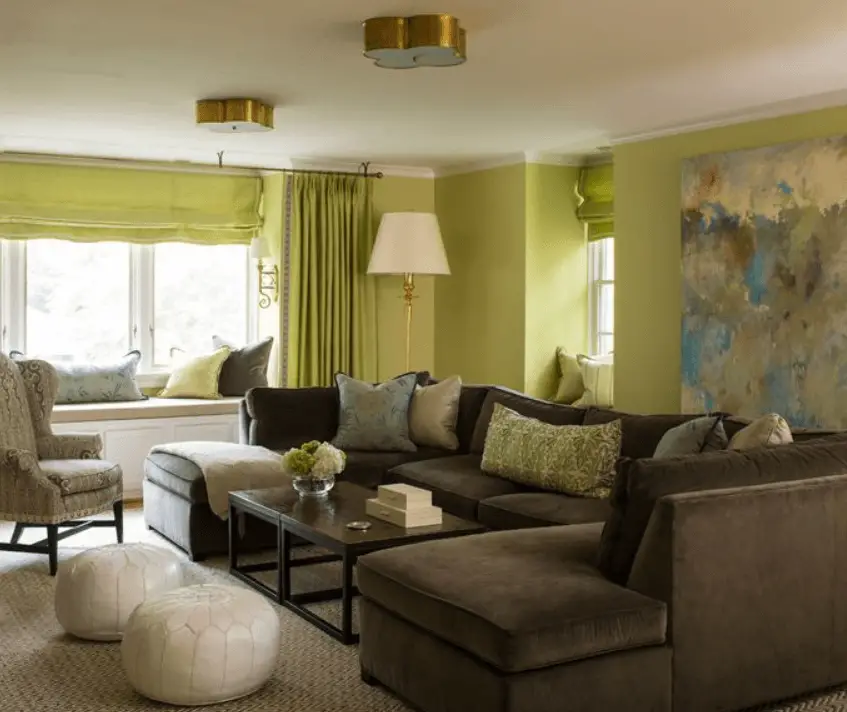 Green curtains can have a different effect on your space depending on the shades you choose to use. If you prefer a natural, earthy decor, then use darker shades of green. It will bring you the memories of a dense forest with the rays of sunshine filtering through the foliage.
Light-green curtains give a more vibrant feeling of spring and the joy of youth.
Some houseplants in the room will add to the natural vibe. And throw a couple of white and green pillows to finish the look. It's perfect.
Teal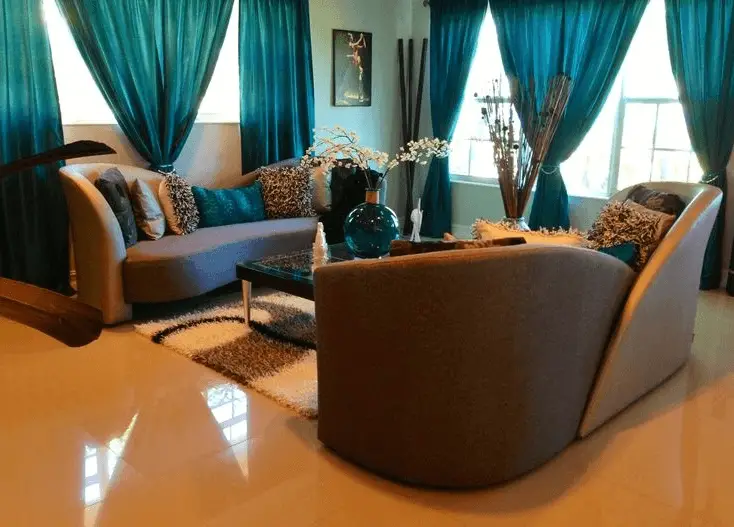 A mix of teal curtains and a dark brown sofa is a statement, a stunning combination.
However, keep in mind that you can use a deep teal shade only in areas that are heavily flooded by daylight. Otherwise, the room will be too dark and gloomy.
Some light color accents will lift the spirits and shift the focus from the darker colors.
Teal curtains will look fantastic with gray walls.
Blue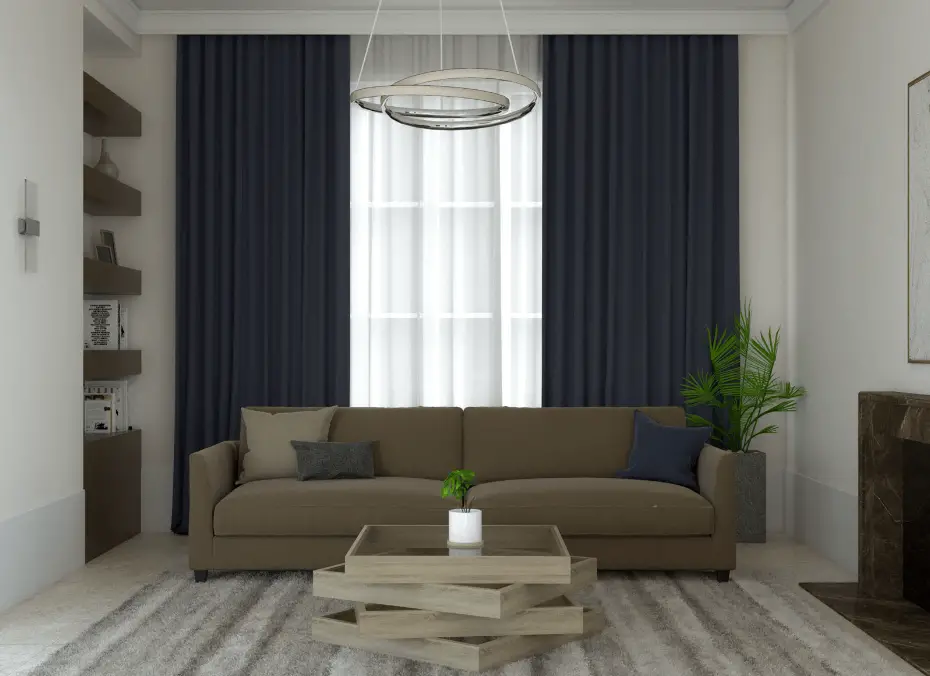 Blue is a color that goes with all shades of brown, whether lighter, darker, or tan. However, choose the shade that best suits your needs.
Go for a lighter shade to bring light to a dark room. Light blue curtains will invigorate the space, and bring in joy and positivity.
Silk or velvet curtains look especially lovely and stylish. Neutral-painted walls will complete the picture.
Dark blue or navy-blue curtains look exquisite with light-brown sofas balancing the contrast and creating a sophisticated royal vibe.
Cream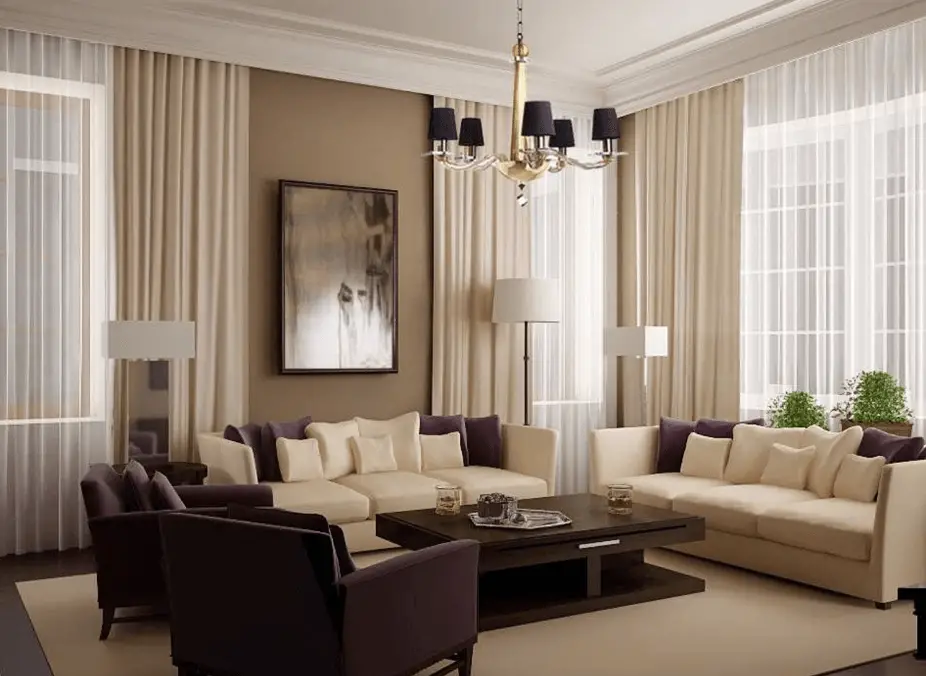 Brown furniture of any shade will benefit if paired with cream curtains. Soft and warm, they fill the room with coziness and calm. If the color seems a little boring, select a fabric with texture and then add more different textures with cream throw pillows of different shades on a brown couch.
A piece of advice: paint the walls in a darker shade than cream, for example, tan. Very elegant.
Brick
The brick color has a brown undertone, so it will complement a brown sofa beautifully.
Besides, this tone is strikingly stylish and elegant. The interior with brick-colored curtains looks less traditional than with classic red, at the same time preserving the chic the red brings in but adding a modern, progressive note.
Give the whole interior some red boost with pillows, a red banquette, or knick-knacks.
Black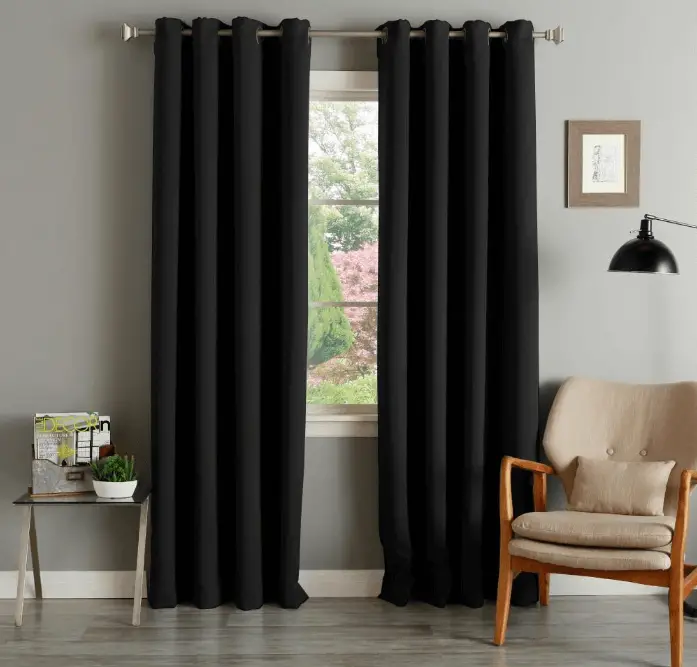 Unexpectedly chic, that's how black curtains look together with brown furniture. Both colors create a stylish combination without oppressing one another, but setting off one color with another and creating a perfect balance and an elegant look.
Metallic silver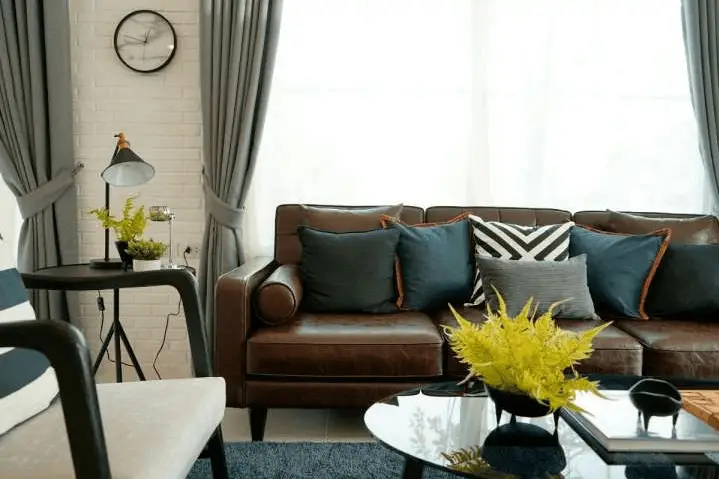 Are you in the mood for some drama?
Go for silver. Its metallic shine is charming, and it will tone down the warmth of a brown sofa a little, but it will look gorgeous and special. Just enjoy it in moderation. You won't want too many metallic silver accents in your space.
Brown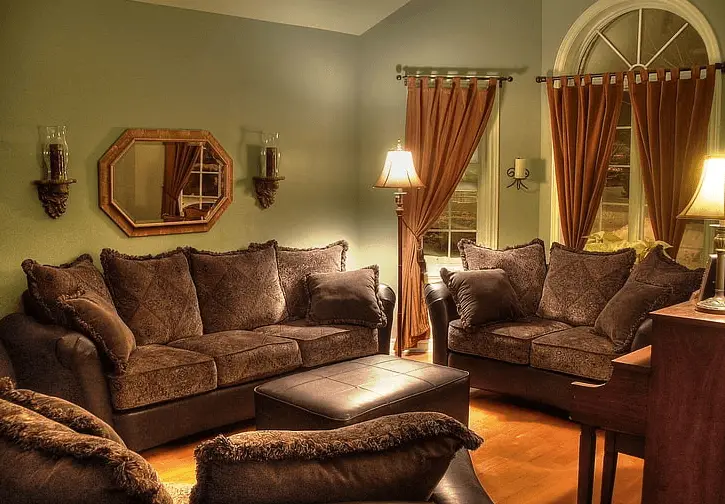 We recommend using different shades of brown while decorating your space.
If your brown sofa is on the darker side, opt for light-brown curtains, then play with other decorative elements, in the same manner, alternating between lighter and darker shades. In such a case, the design will never be boring or drab, but cozy and inviting.
Patterned curtains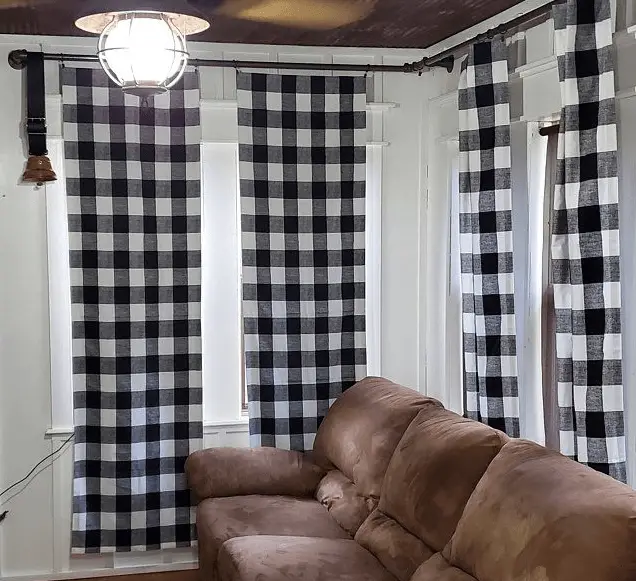 What colors complement a brown couch? For example, it will pair beautifully with patterned curtains. The options here are many: stripes, checks, lattices, waves, you name it.
But choose your pattern wisely, especially if your space is on the smaller side. A bold and large pattern can become a dominating element in the room.
Your patterned curtains can come in different shades, they will all look good. Consider complementing the colors of the curtains with the same shades in the other items in the room, like pillows, lamps, art on the wall, etc.
One of the popular trends now — is black buffalo check curtains. They create a country vibe and look great in a rustic interior with brown leather furniture. And if you add some gray elements to your decor, the look will be complete. You won't be disappointed.
Floral curtains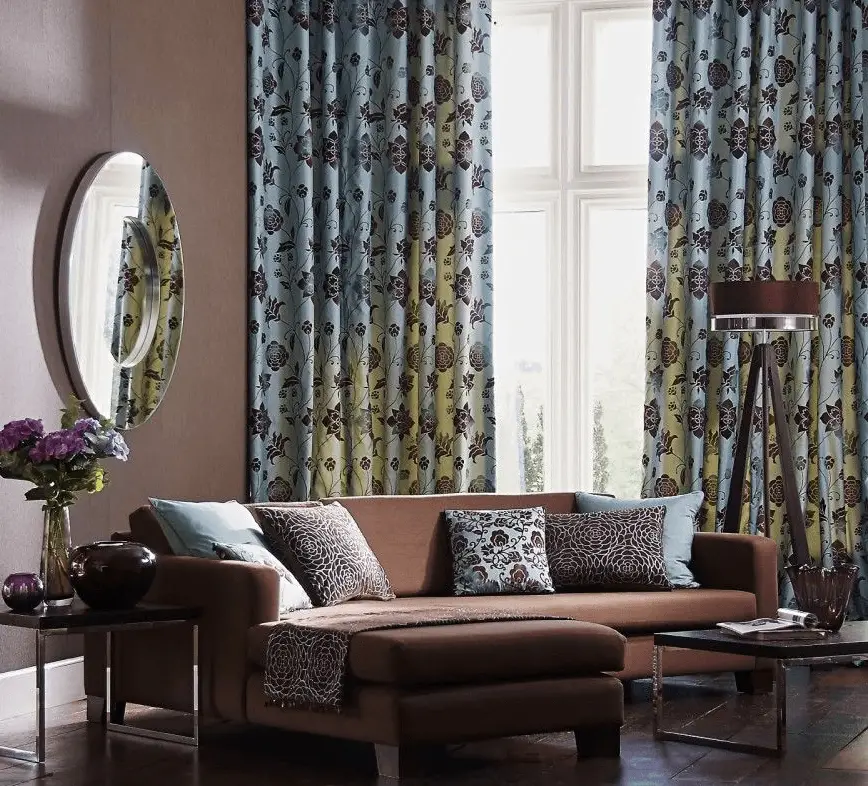 Curtains with floral prints have also originated from a country style. They remind us of the 1950-s as we saw them in the movies, and if it's up your alley — go for it.
You can choose a more toned-down look, with the same tones on your prints as the tones of your brown sofa.
Or you can decide to be bold and contrast the brown sofa with vibrant colors like scarlet, orange, or cornflower blue.
To recap
We tried to show you many options and ideas that inspired us and that we wanted to share, so you can have your dream space. Of course, we based our recommendations on the knowledge of general color compatibility rules, but not only that.
We found inspiration in selecting different colors and fabrics, rising to the challenge of complementing a classic brown sofa with curtains in such a way that the space becomes unique and remains comfortable. In this article, we showed you our knowledge and inspiration, and now it's your turn.
You are now well-equipped and ready to consider what you want to do about this space with a brown sofa or a brown dining set, and then make a decision.
Maybe you'll want to go bold and choose navy-blue curtains inspired by your vacation at the ocean, or you'll want your space to be tranquil and relaxing and choose beige curtains in a lighter shade for your dark brown sofas.
Or how about classic red curtains or brown curtains? They can all look gorgeous.
Teal curtains and tan curtains look wonderful with gray walls and brown sofas.
Beige curtains with a lighter shade of brown couch and some other color accents create a warm, cozy space. Cream curtains are also great for a warm but classy look, and they will complement your brown leather sofa beautifully.
What color curtains you will select is up to you. Don't be afraid and create a perfect space for yourself. If you are still interested in interior design, you can read our another guide on how to match wall color with wood floor. Hopefully, we've been helpful.